In 1987 I received a Nikon 2020 as a gift from my dad, and began taking slides in earnest. Below is just a random sampling from 1987-1989.
While not the best shot as it wasn't the best of days to shoot, I caught a northbound C&NW freight rolling through Edwardsville, IL on 12-18-87. This used to be the site of Kasten RailCar, which restored passenger cars in the former Litchfield & Madison shop building on the left. Sharing this shot because this line is gone now, and the car shop moved to Madison, IL.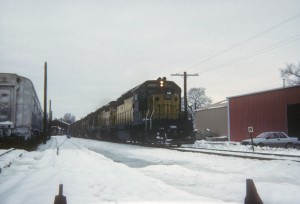 Next, shots from one of many visits to the former MP Ewing Av shop complex. Back in the day, you could wander around these facilities and not be questioned by anyone.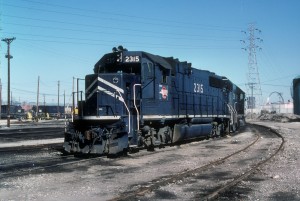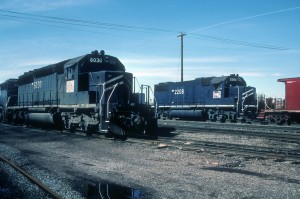 I spent a LOT of time in Kirkwood in the late 80s when I should have been in class (priorities…).  Here's an eastbound SP @ Leffingwell grade crossing 1/2 mile east of the Kirkwood Amtrak station. 1-88.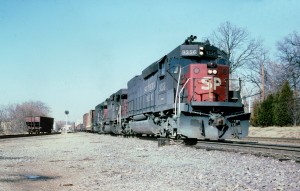 I grew up in south St Louis, in the south Tower Grove area, near MP's Fyler yard. This yard served various customers in the immediate area, including this one on Morganford. To get to it, the railroad climbed a pretty steep hill, as the Oak Hill branch was 50′ or more below & behind this view. I can remember MP SW1200s working this job in the 70s when I was a kid. Here on 6-27-88, an ex-MP, now UP GP15-1 crosses Morganford & switches the customer.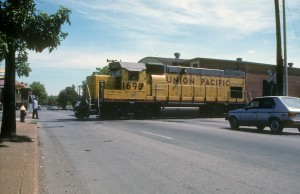 In October 1988 I went down to Ft Worth with Camille Chappuis for the 1988 MPHS convention. We got a tour of Centennial yard & wore hard hats while on the property. We found this MP crew van, untouched by UP imagry, & had to pose with it. JL Horton on the left, me, & Camille. 10-8-88.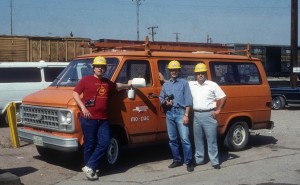 While in the DFW area, we of course went looking for the MKT.  Next 2 shots were taken in Ft Worth on 10-8 and 10-9-88, respectively.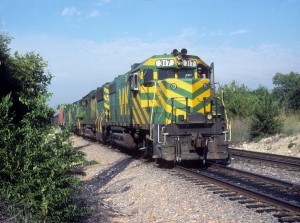 To wrap up 1988 is this shot in Granite City, IL of the CM&W on 12-29-88.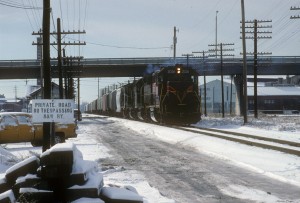 On to 1989:
UP 117 on the snow, Kirkwood, 3-7-89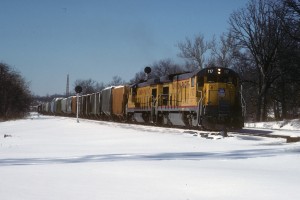 Chrysler auto parts trains from Detroit used to run through to the Fenton Chrysler plant with Conrail power. Such is the case on May 7, 1989 as the westbound parts train crosses over I-270 on the downhill run to the plant.
By the late 1980s you could still find MP-painted units roaming the UP system. Many were badly faded, as was the 2107  here in Kirkwood on 9-7-89.