Continuing on, BNSF Warbonnet 734 speeds the westbound Q train through Pacific, MO on 10-18-12, bound for Clovis, NM.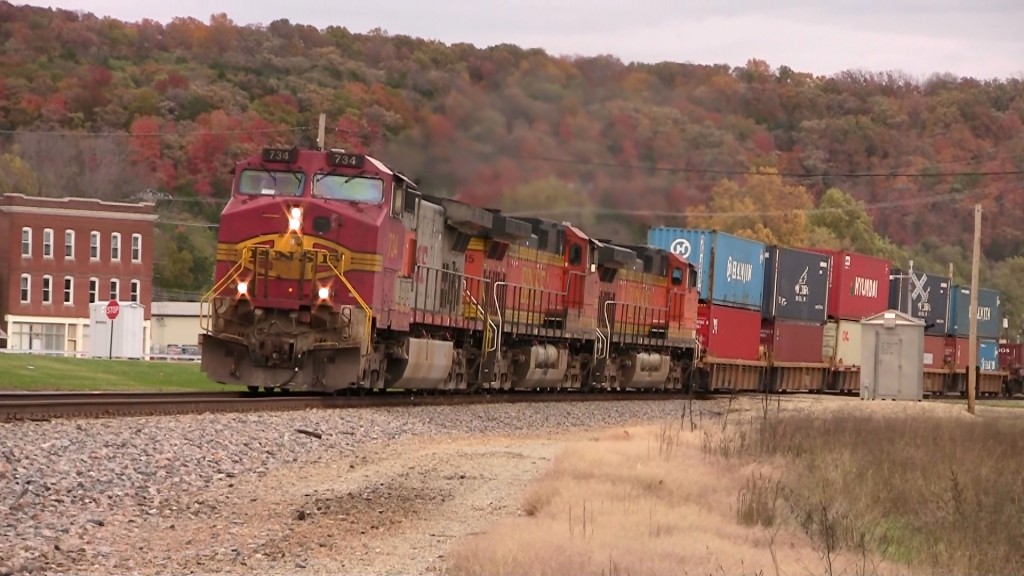 Later that same day, UP 4930 leads a westbound through Pacific. Both BNSF and UP run through here on separate lines: UP to Kansas City, BNSF to Springfield and Tulsa.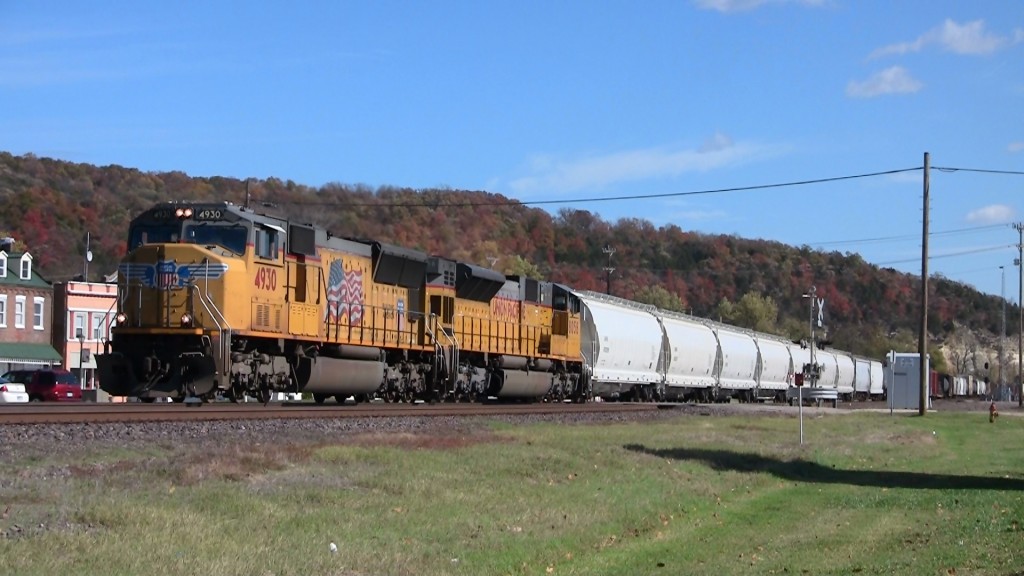 Next, BNSF Warbonnet 733 begins the eastbound climb up Kirkwood Hill at Valley Park, 7-19-13.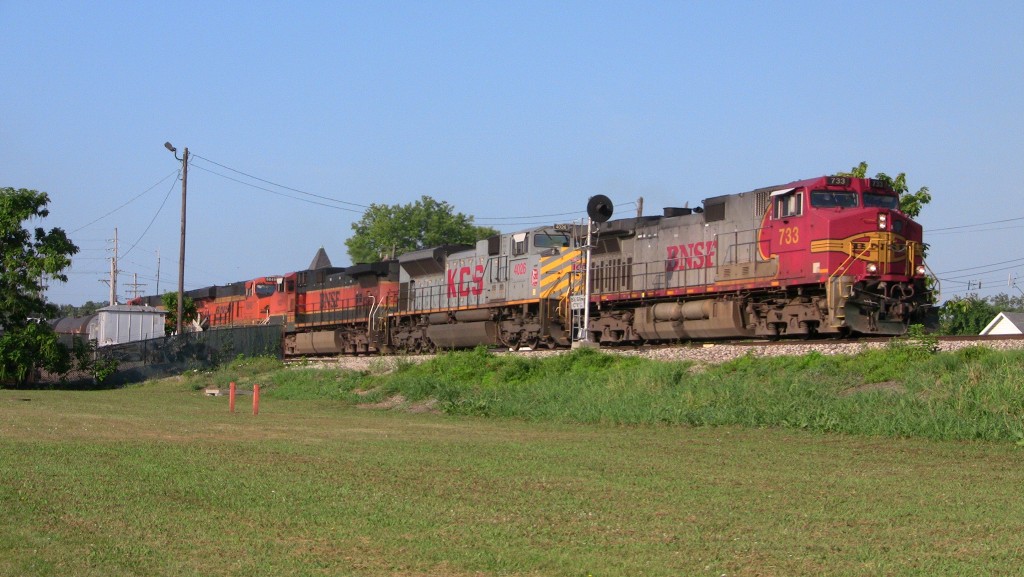 Our "Rails Around Missouri" tour lent an opportunity to visit BNSFs Marceline Sub, and on 10-18-13, BNSF 6560 rushes a westbound stack train through Marceline.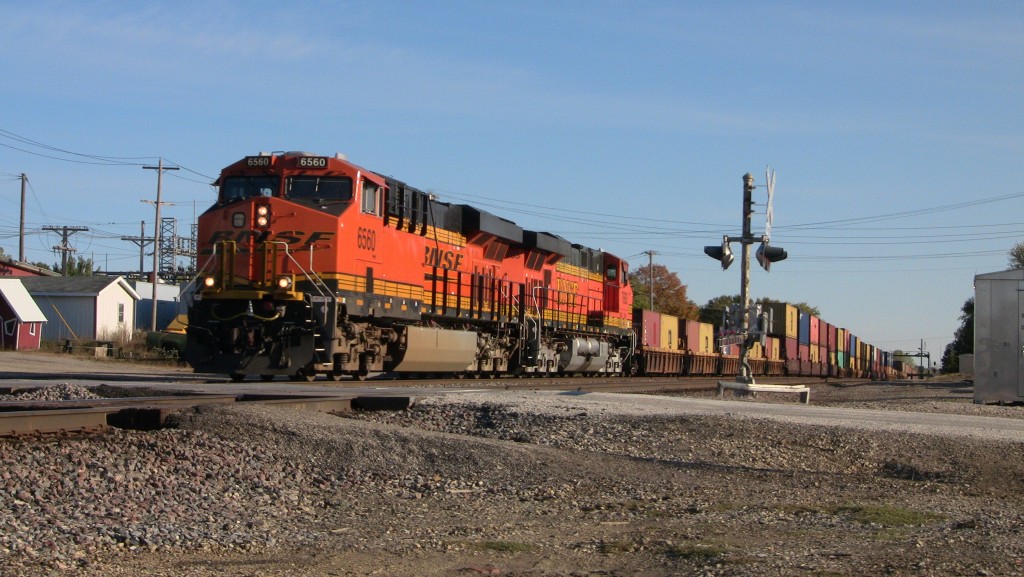 Next, BNSF 6515 roars through Bucklin, MO with a westbound stack train, 10-18-13.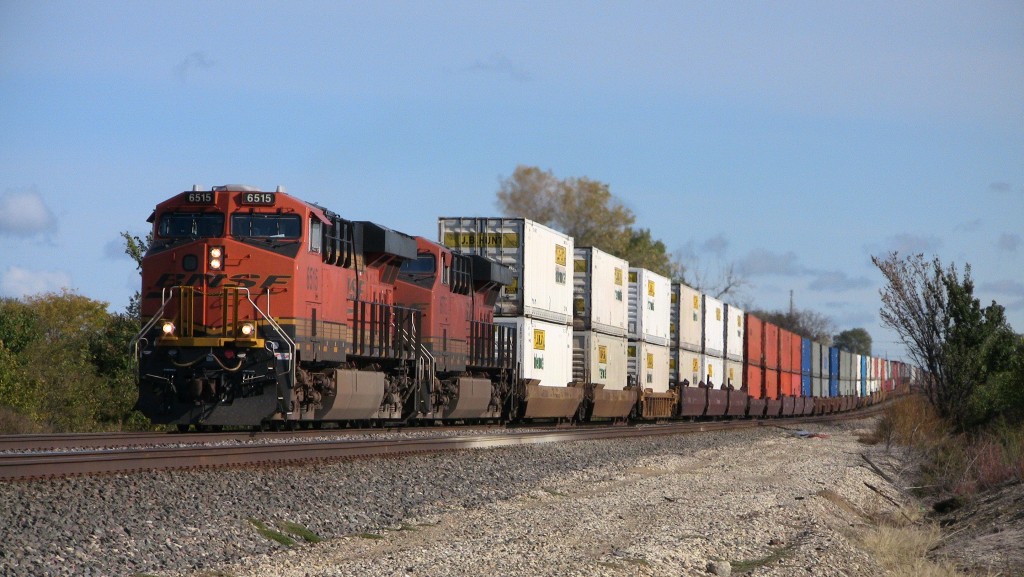 2 DPUs bring up the rear, passing through a classic ATSF searchlight signal bridge. All of these bridges were in the process of being replaced by "Darth Vader" hood-type signals at the time of this visit.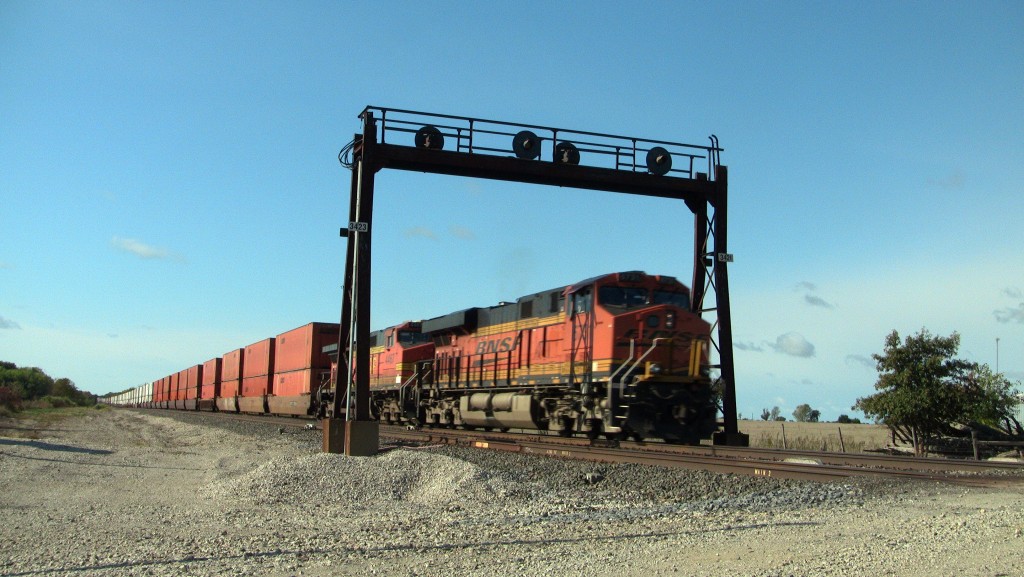 A few miles east of Bucklin is the hamlet of Hart, where the ATSF searchlight signals have been replaced by 3-light hoods, though the signal bridge itself was retained. BNSF 5523 rounds the curve & passes under the signal bridge on 10-18-13.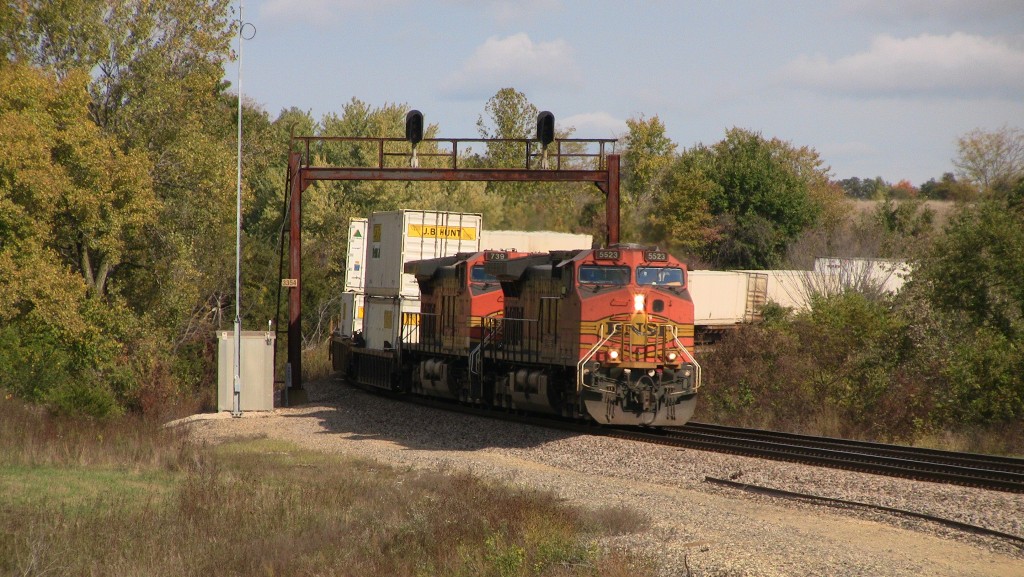 At Ethel, the ATSF signals are still in use, though the Vader hoods are in place but not yet active.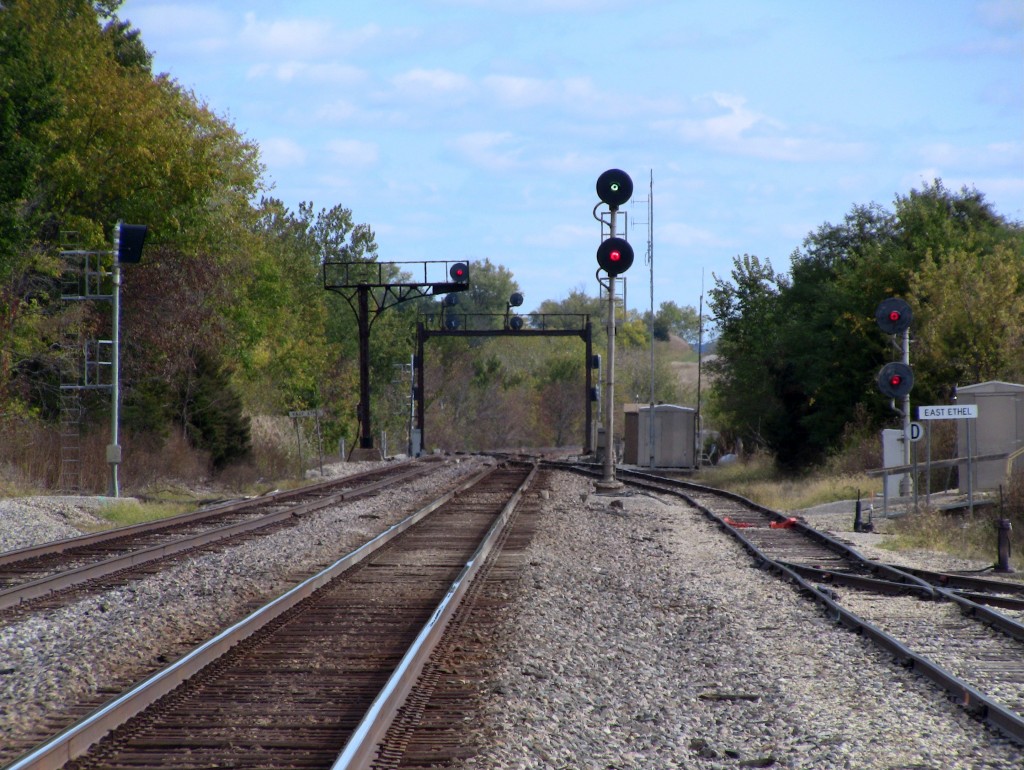 BNSF 6723 rushes another stack train east through Ethel. Skies are darkening as I traveled east, and by the time I got to La Plata, it was cold & raining.
That night in La Plata, the station agent gets things ready for 2 passengers inside the restored, art-deco style station. Westbound Amtrak #3, the Southwest Chief, was due at 730pm.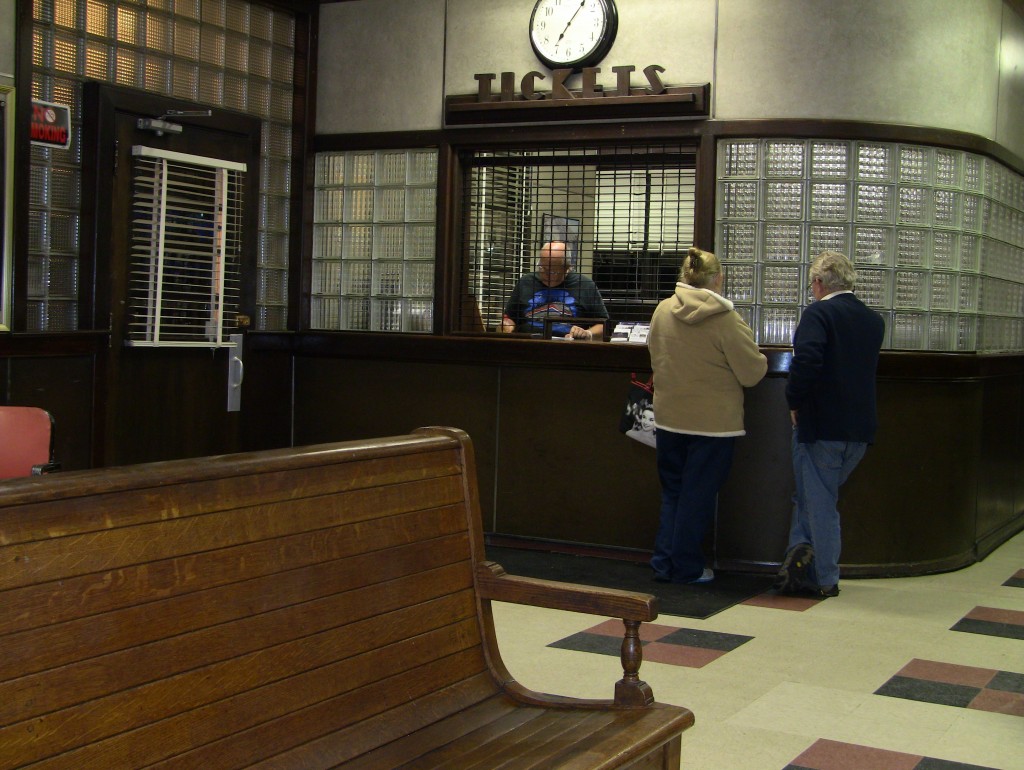 Next afternoon, BNSF 5643 blasts westbound through La Plata oon 10-19-13.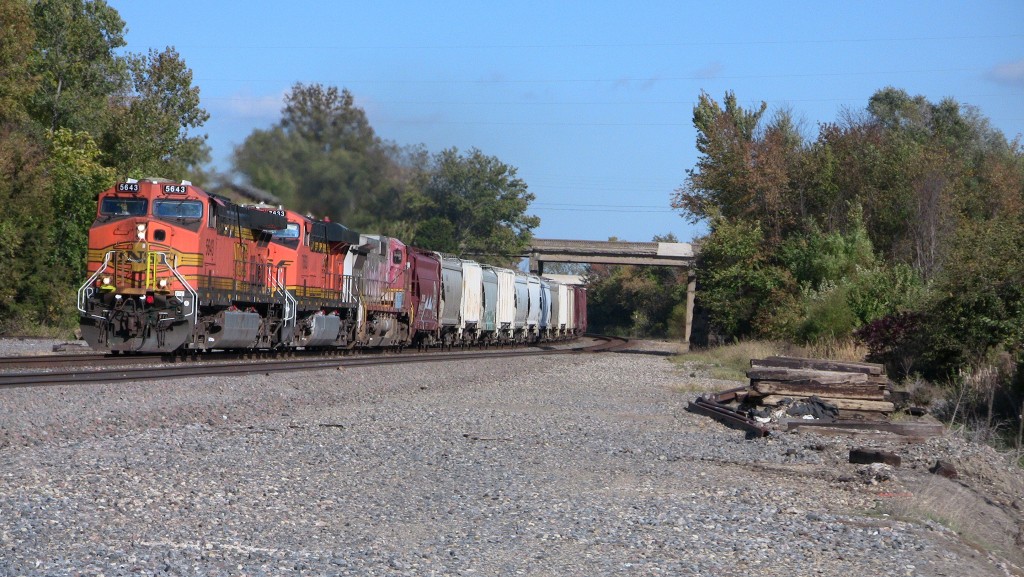 Back in St Louis, BNSF 5173 crests Kirkwood Hill at Geyer Rd on 11-1-13.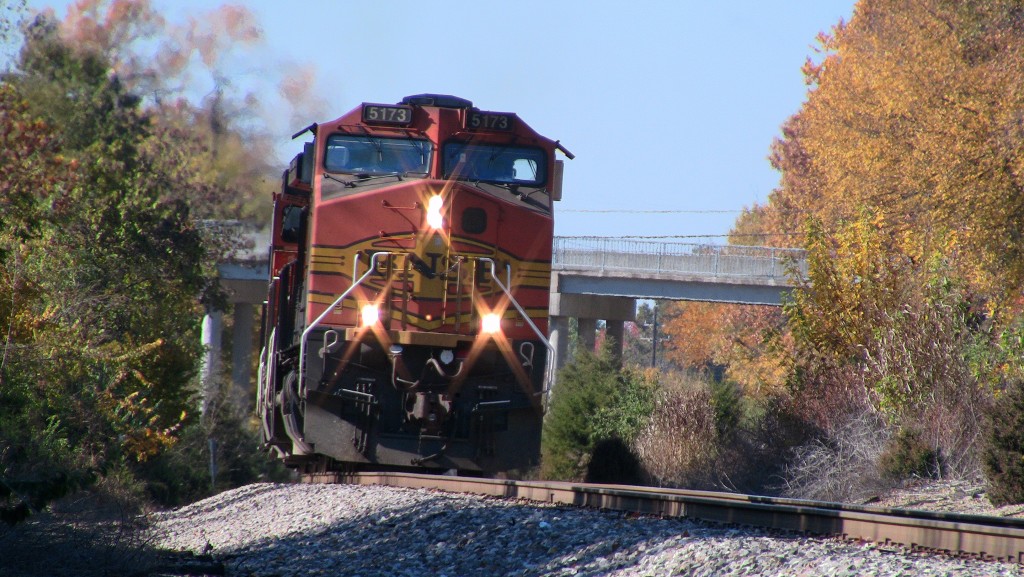 BNSF 5105 and two mates battle a blizzard as they climb Kirkwood Hill at Quinette Rd on 3-24-14
BNSF 6114 crosses the Meramec River at Valley Park, 3-23-14.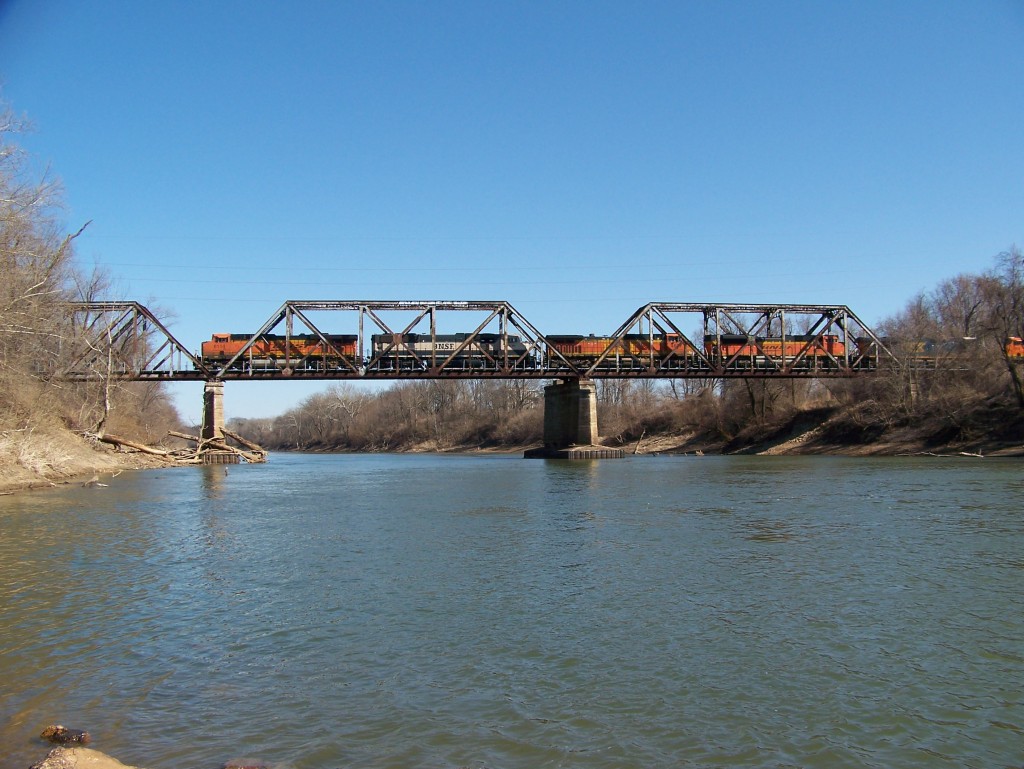 Next, NS 9232 leads the eastbound BNSF Q train from Clovis through Eureka on 4-4-14.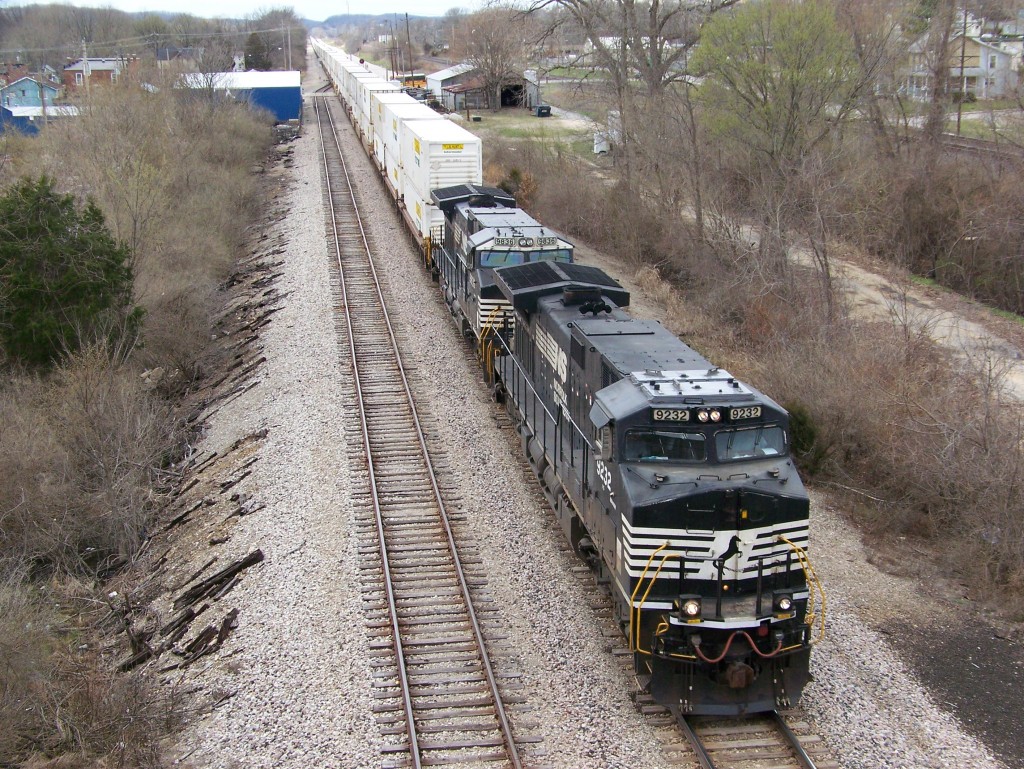 Later that same day, the eastbound Cuba Sub local rounds the curve at Dozier and passes a freight that is tied down in the Pacific siding.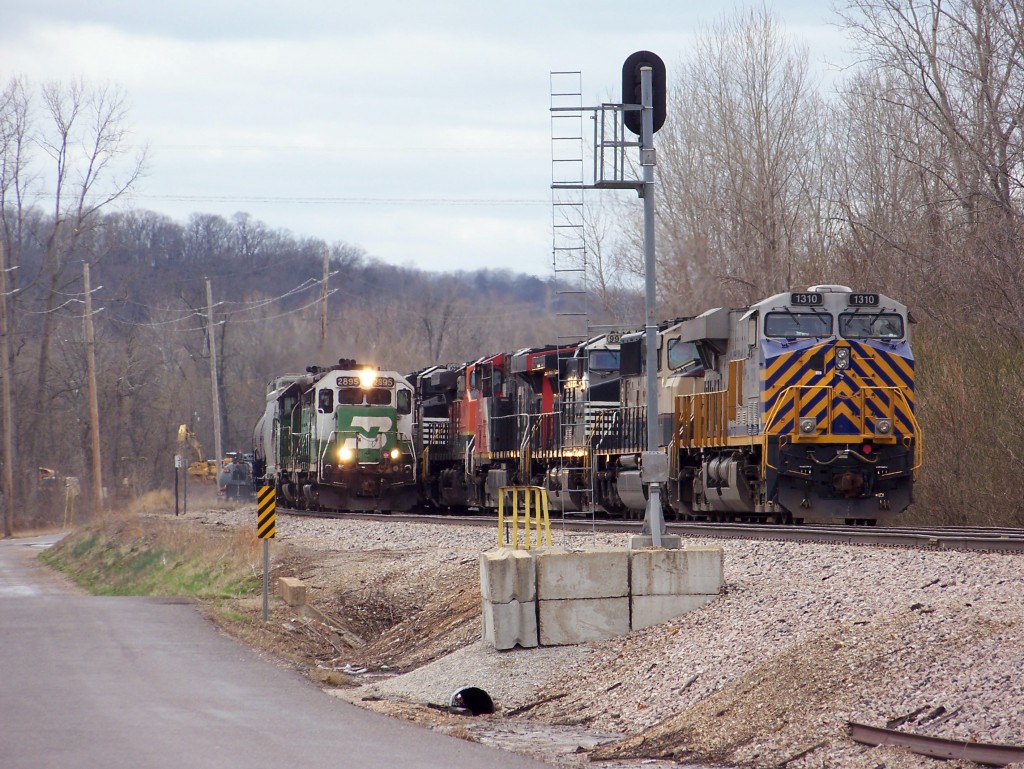 BNSF 6337 leads an empty coal train down Kirkwood Hill & over I-270 on 5-2-14.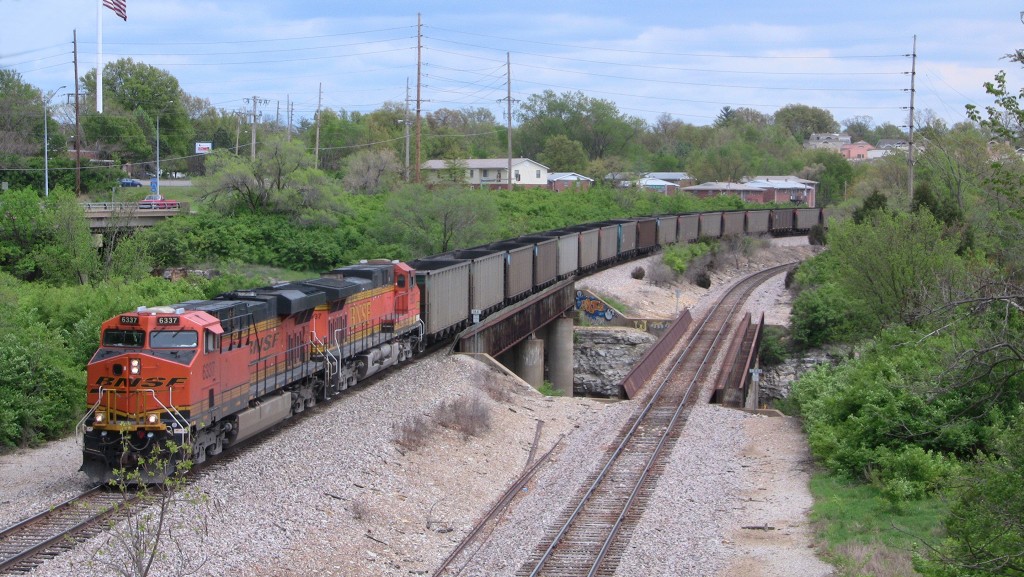 The Q train gets priority as two westbound freights meet at the west Eureka switch on 5-23-14. The Q train had an issue with the RED, which was replaced during this meet.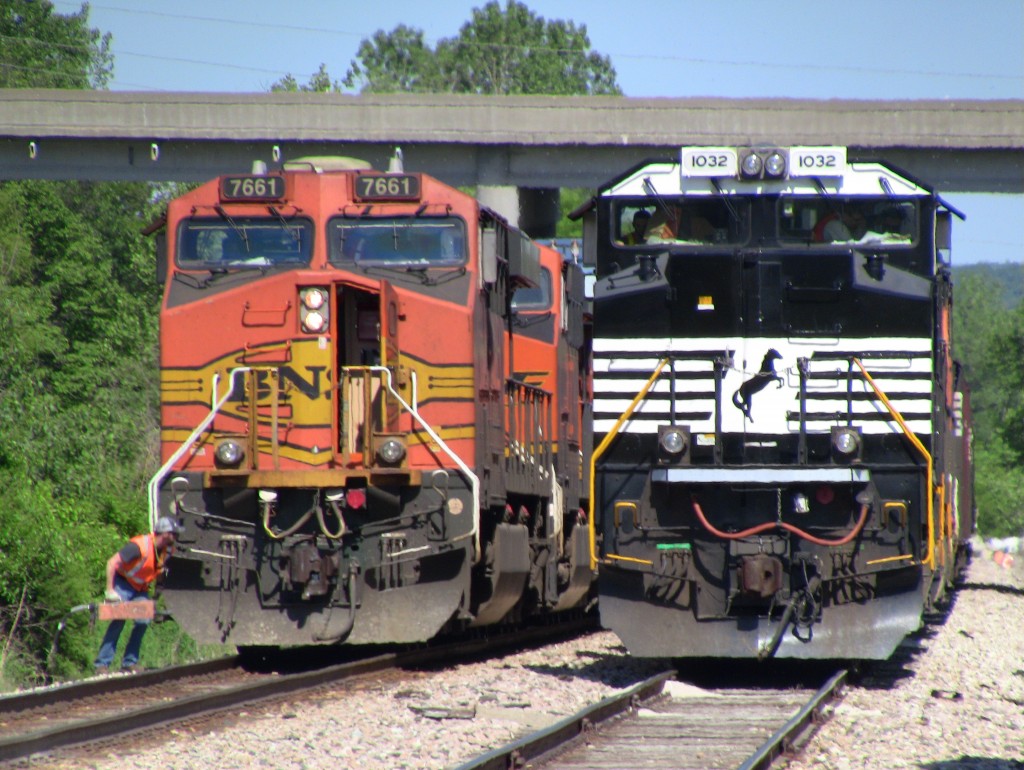 Amtrak Cab control car 406 and the Veteran's unit lead Amtrak's exhibit train east through Valley Park on 6-16-14. The train was returning to Chicago from the NRHS convention in Springdale, AR.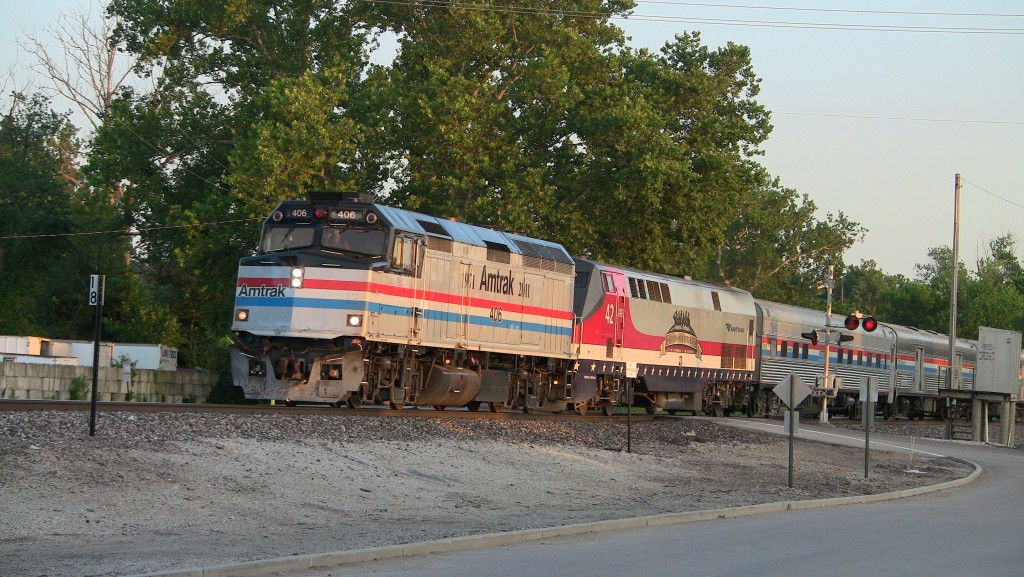 UP 7412 grinds up Kirkwood Hill with a coal train on 6-24-14.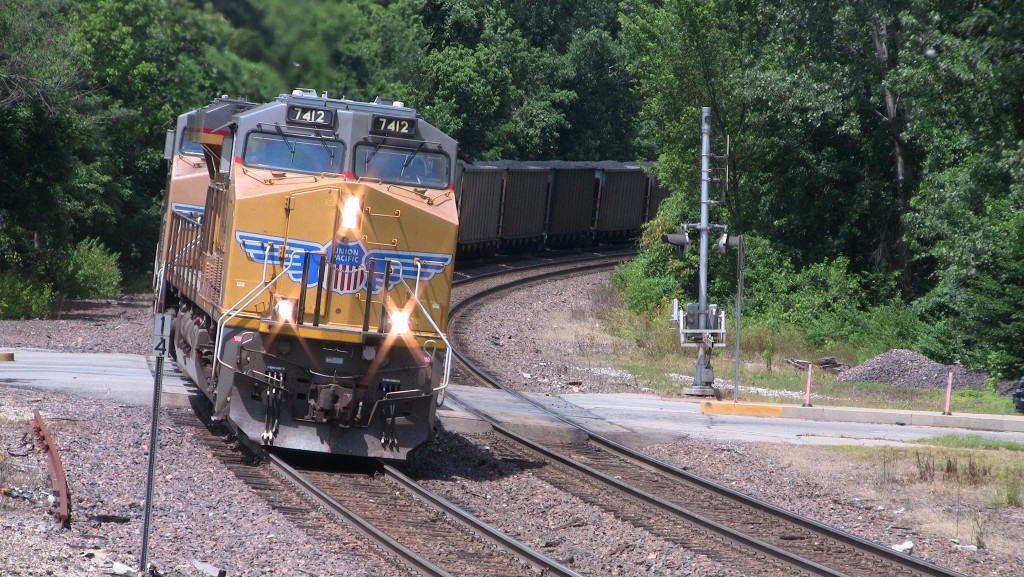 UP 4937 meets maintenance equipment as it works uphill later that same day.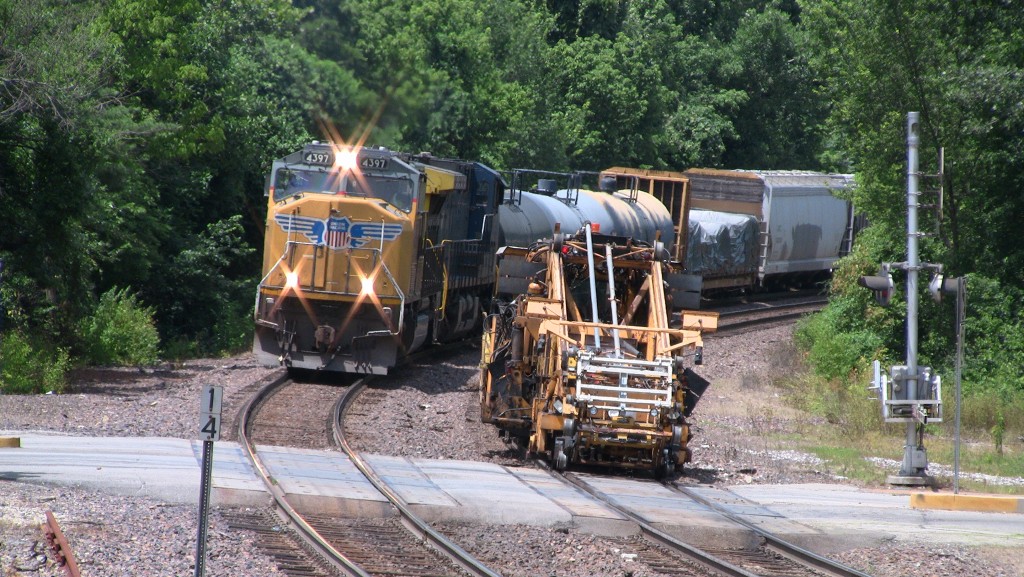 The eastbound Cuba Sub local splits the signals at east Valley Park on July 16, 2014.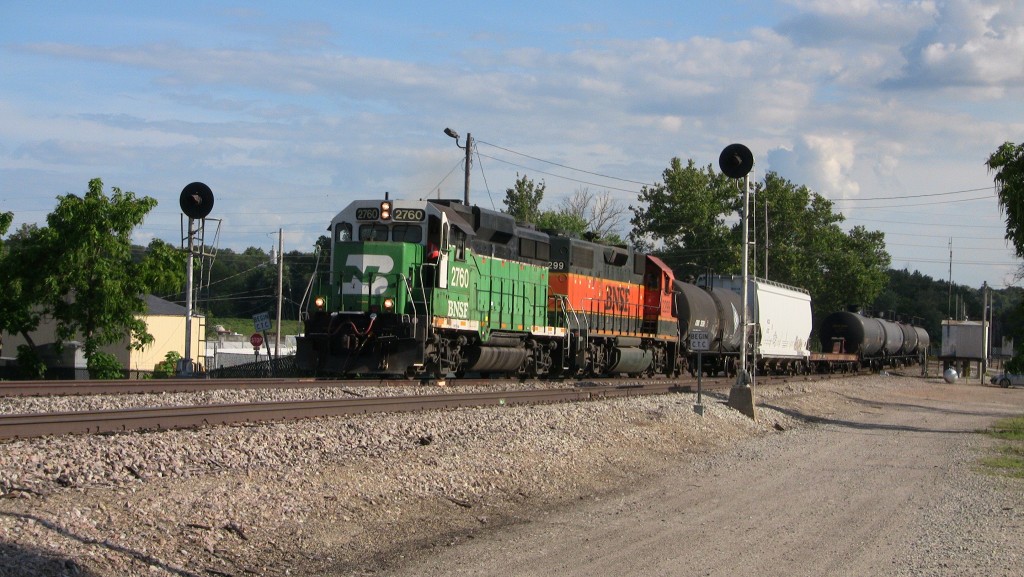 Then meets a westbound freight waiting at the end of double track…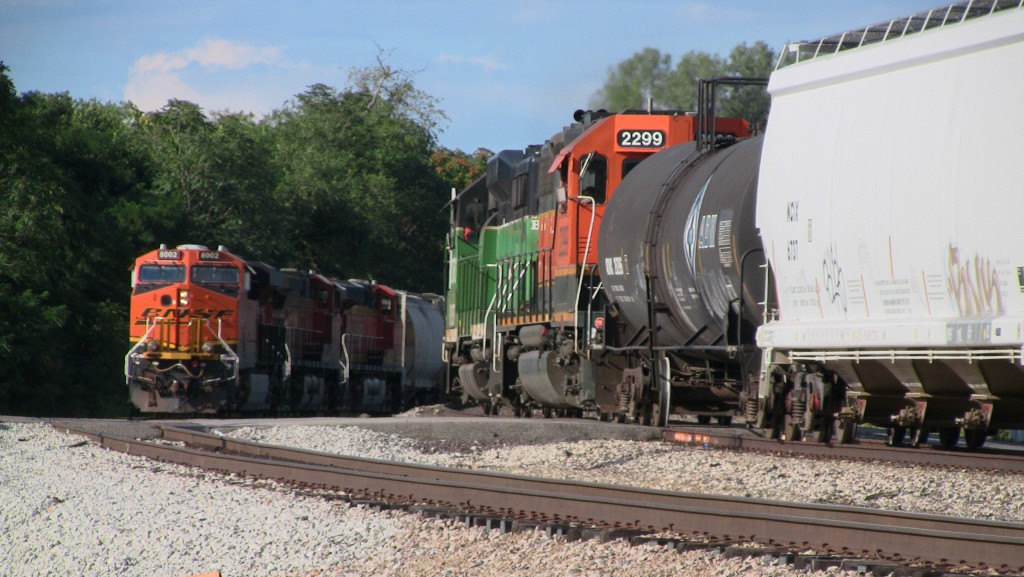 Amtrak Heritage unit 66 speeds through Keyes Summit on 8-5-14.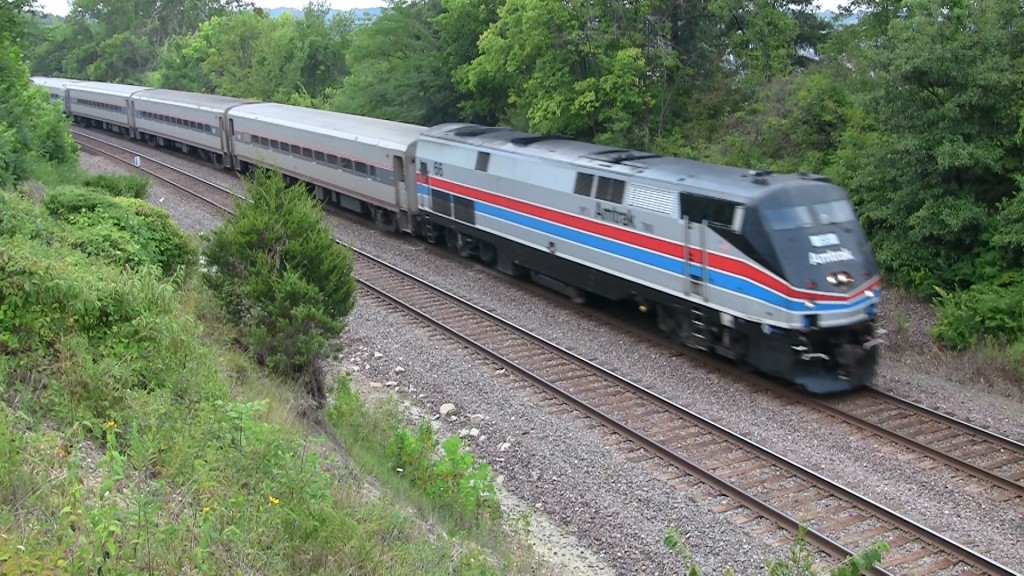 BNSF 6258 roars through Crescent, MO with an empty coal train on 8-13-14.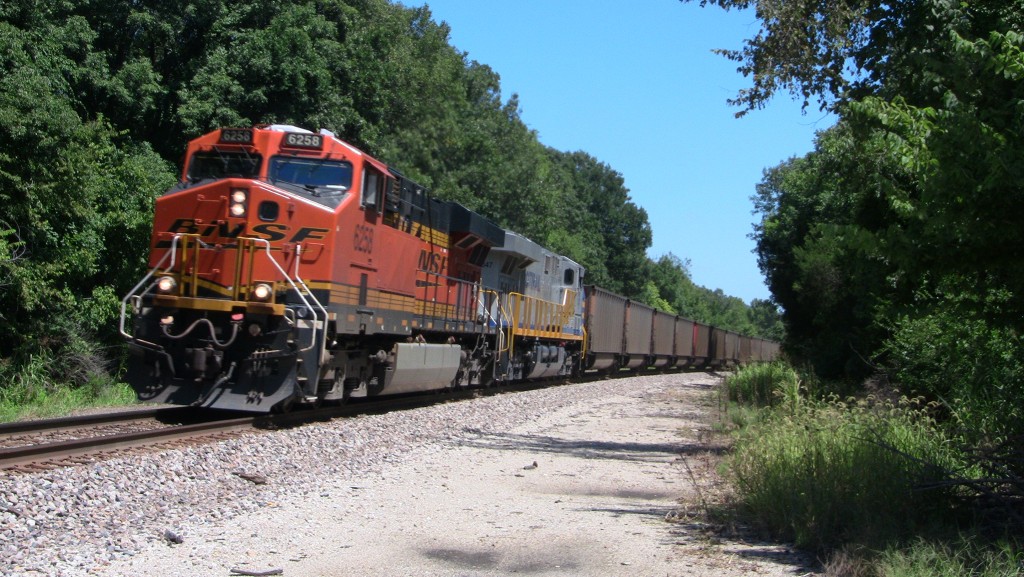 Same day at Crescent, over on the UP, an eastbound stack train crosses the Meramec River lead by UP 4629.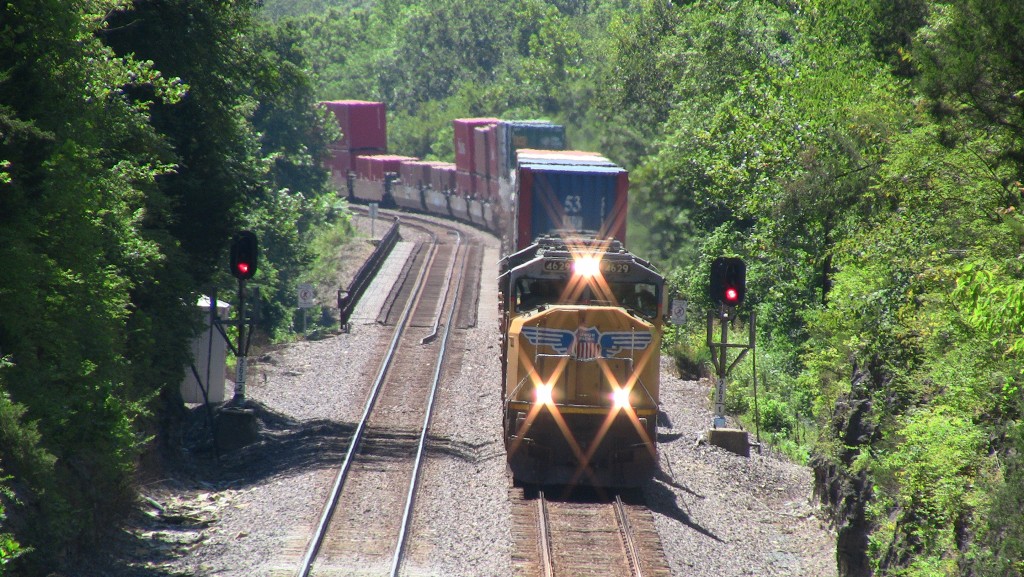 Back on the BNSF, 6937 heads up a stack train on 8-15-14.
UP's Pacific local rolls up Kirkwood Hill on 8-21-14.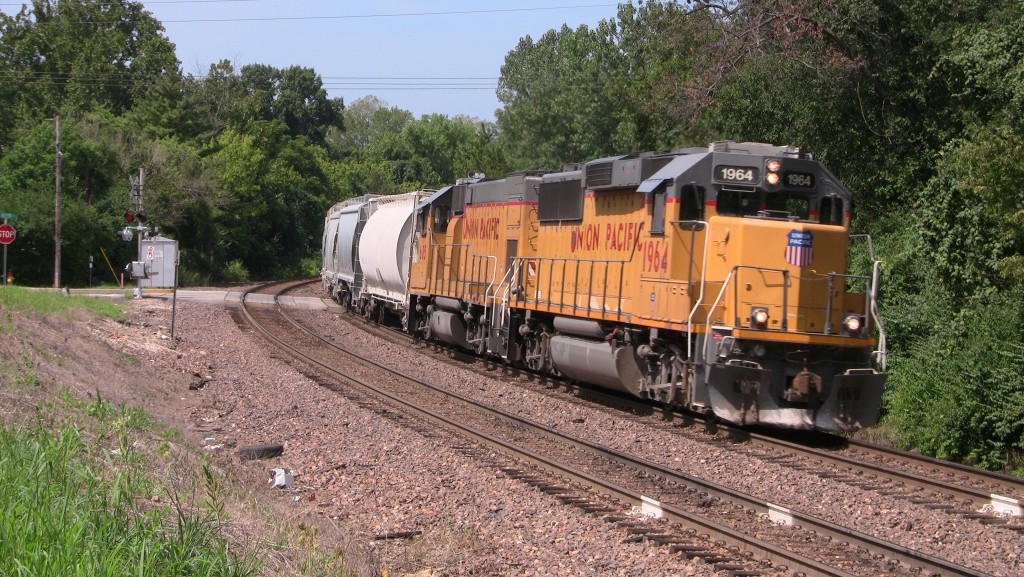 UP 8875 gets an eastbound stack train rolling at Dozier after a meet with a westbound coal train that crossed over a few minutes earlier. 8-25-14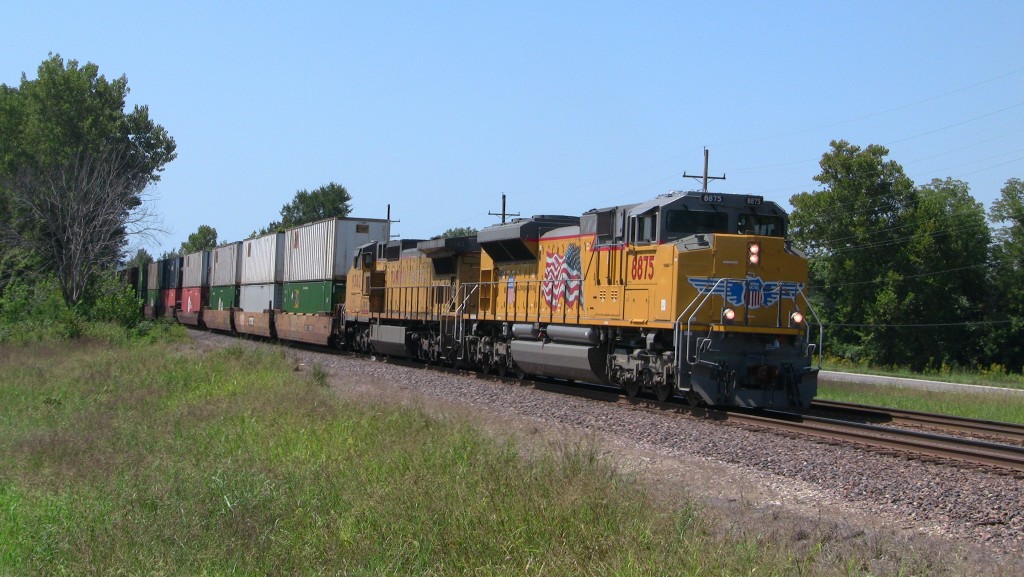 BNSF 6701 leads the westbound Clovis Q train into Valley Park on 8-26-14.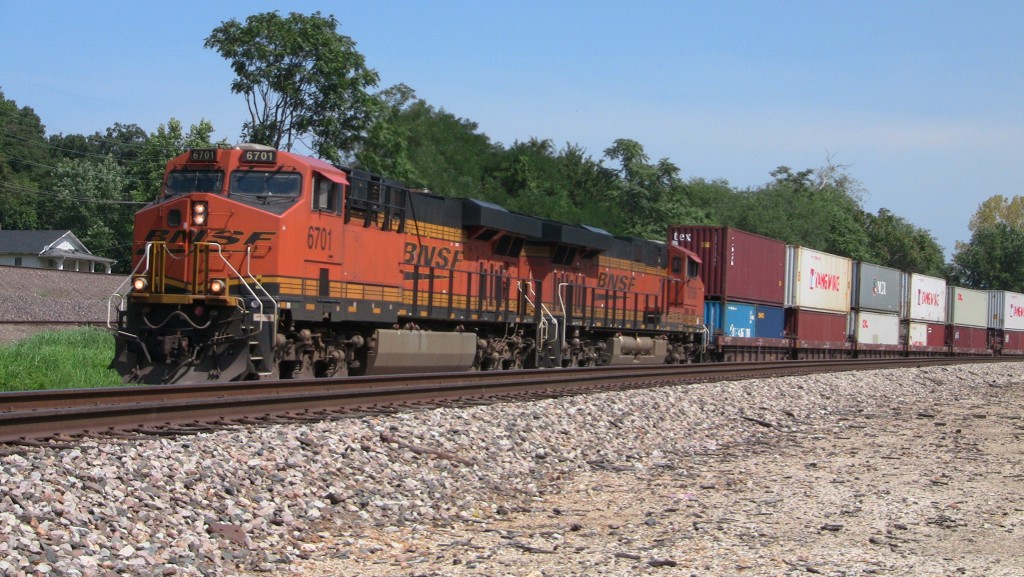 BNSF Warbonnet 780 leads an empty oil train into Valley Park on 9-13-14.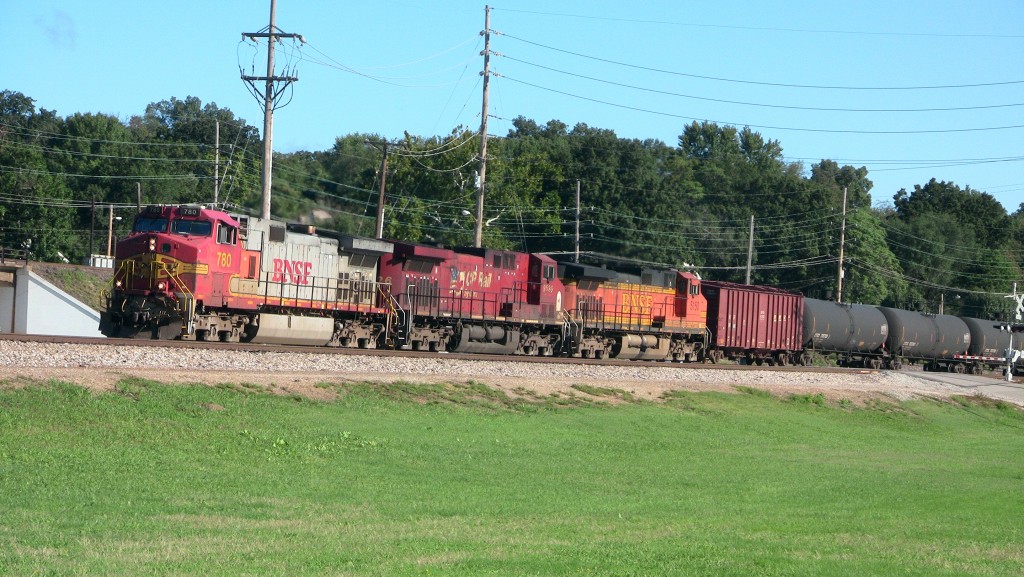 KCS 3920 leads a BNSF Warbonnet on an eastbound in Valley Park on 9-15-4.