---
Updated June 2017, St Louis
Rails Around Indiana (and southern Illinois) – The Hoosier State in Days Past. This new book will follow in the template of Rails Around Missouri and Rails Around Michigan, featuring all-color photographs from the steam era to the mid-1980s. It will be hard cover, and in the range of 150-200 pages packed full of photos, maps and advertising collateral from the railroads of that era. Cover photo below by Tony Koester.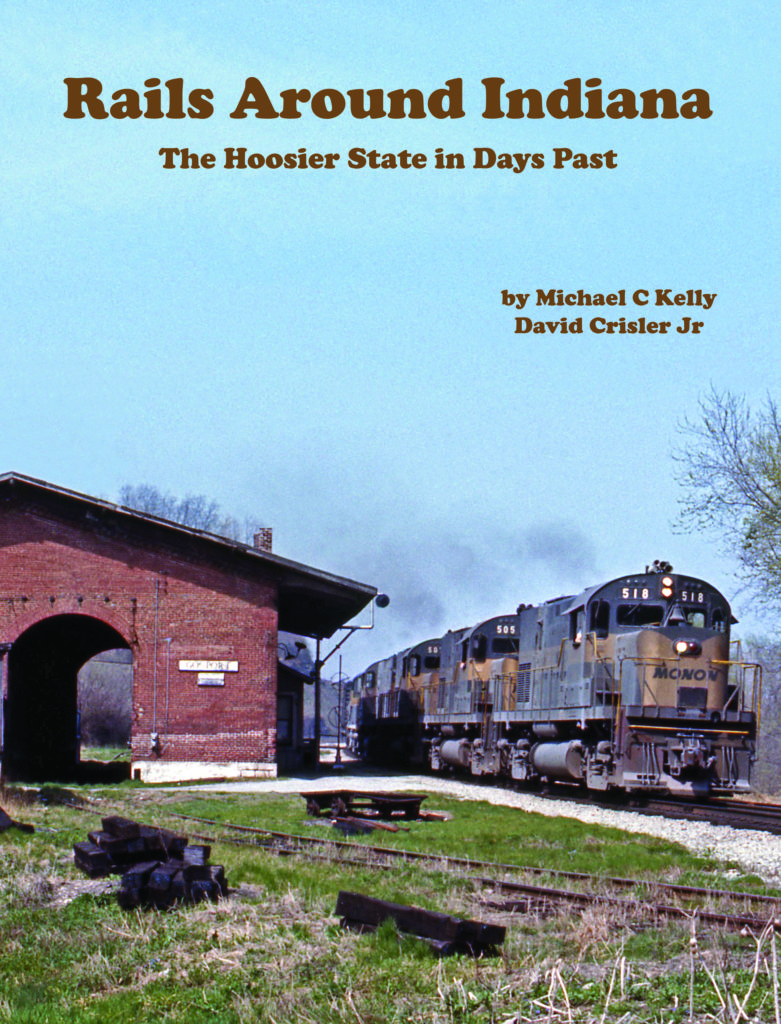 I am pleased to introduce my Indianapolis-based partner, Dave Crisler, who is aiding me in gathering color slides or negatives from the great state of Indiana. Currently we are seeking COLOR slides or clean negatives from every corner of Indiana and southern Illinois (south of I-70). Locations include, but are not limited to Attica, Gary, South Bend, Michigan City, LaCrosse, Monon, Lafayette, Frankfort, Wabash, Ft Wayne, Indianapolis, Bloomington, Seymour, Crawfordsville, Richmond, Peru, Tipton, Elkhart, Bedford, Terre Haute, Greencastle, Avon, Muncie, Kokomo, Evansville, Columbus, Rushville, Connersville, Greensburg, Madison, Huntington, etc. No town is too small. In fact, the smaller the better.
Railroads include, but not limited to, B&O, C&O, Erie, Monon, New York Central, Pennsylvania, Nickel Plate, Wabash, L&N, Southern, Amtrak, Conrail, Chessie System, Norfolk & Western, Norfolk Southern, South Shore, Illinois Central, Penn Central – any road operating in Indiana.
For Southern Illinois, locations would be anything along I-70 south, and include railroads like B&O/Chessie System, GM&O/IC/ICG, Southern/NS, CB&Q/BN, NYC/PRR/PC/Conrail, L&N, etc.
If you have original slides, preferably but not limited to previously unpublished, please contact me: 314 809-9310 or atsf101@hotmail.com. You can also contact Dave Crisler: david.crisler.jr@gmail.com. Compensation is a copy of the book unless otherwise agreed to. We can accept your scans if they are minimum 3600dpi RAW TIFF files (no photoshopping), or I can come to you to scan, or you can mail them to me, and I can and will return promptly. I have a 7600dpi scanner and can scan quickly.
Action shots are preferred, as they tell a story, but depot shots are also of interest. Roster shots are best suited for motive power books, which this will not be. Regardless, please contact me. Publishing target date is late 2018.