It's been well over 35 years since a Rock Island or Cotton Belt train rumbled across Missouri between St Louis and Kansas City via Freeburg. Shuttered by the Cotton Belt in the early 1980s, the scenic line, complete with 4 tunnels and several high bridges, has been officially abandoned west of Union, Mo. In fact, the line is currently being torn up in preparation of being converted to a biking & hiking trail.
The Rock Island completed this line from Kansas City to St Louis in 1905, but by that time, was not able to effectively compete with the more established Missouri Pacific and Wabash Railroads to the north. The foothills of the northern edges of the Ozarks were expensive and time consuming to build through, delaying completion for some time.
When the Rock Island fell onto hard times in the 1960s, this line suffered greatly from deferred maintenance. Below, eastbound Rock Island train # 74 passes through Freeburg, milepost 118, on  July 3, 1975. It has just exited tunnel #1 and is passing the forelorn Freeburg depot, making only 10-15 MPH. By this date it would take 12 hours or more to make it from Eldon, the halfway point, to either end of the line.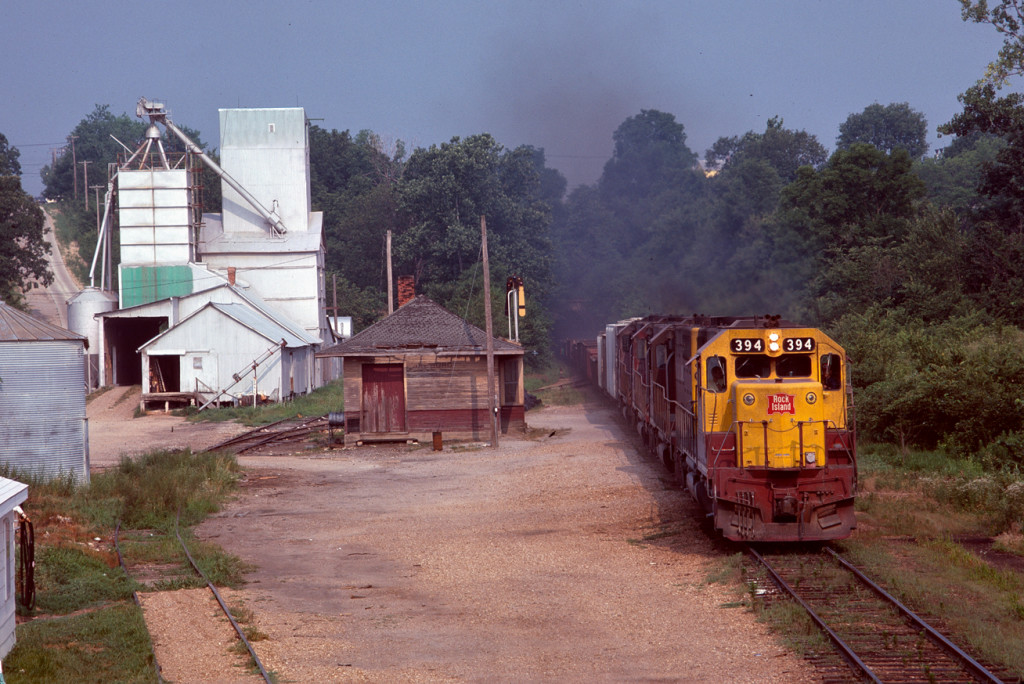 The above photo is found on page 175 of Rails Around Missouri. Released in 2013 and reprinted in 2015, this book contains over 500 all-color images from every part of the state, spread over 224 pages with historical content and maps. Hardcover. Our online price is $54.95 plus shipping. Postal or dealer orders can be made by contacting Don Banwart of Sekan Printing, 620-664-7014, or donald@sekan.com