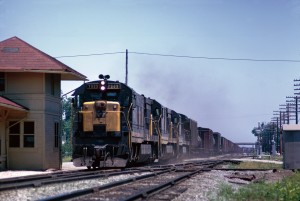 The depot in Hardin was a combination of a station and interlocking tower. The tower operations were replaced by CTC, and the station & tower were demolished in the mid-1970s. Just prior to that, Santa Fe U28CG # 7909 leads a westbound past the station in June 1973. This unit was built for passenger service in the mid-1960s, but was re-assigned to freight in 1969. The 3rd track is out of view to the right of the photo. (Joe Collias)
This selection is from Chapter Two: Northern Missouri. "Rails Around Missouri" will be released on May 1, 2013 with over 500 all-color photos spread over 224 pages in this hard-cover book. Reserve your copy today at the pre-release price of $47.95 plus shipping. See below for options.
Please note – the book will ship the week of May 1.