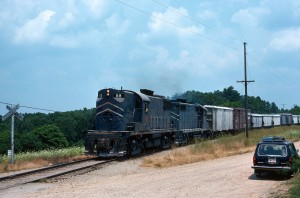 Out on the M-I "mainline", MP GP16 #68, converted from an RS11, leads a westbound freight out of the Mississippi River valley in July 1974, bound for Bismarck. The M-I operated a 123-mile line from Salem, Illinois to Bismarck via the aforementioned carferry operation at Ste. Genevieve.  The carferry operation was discontinued in 1961, and the M-I was formally merged into the Missouri Pacific in 1978. (Terry Norton, photo; Chris Guss collection)
This selection is from Chapter Six: Southeast Missouri. "Rails Around Missouri" will be released on May 1, 2013 with over 500 all-color photos spread over 224 pages in this hard-cover book. Reserve your copy today at the pre-release price of $47.95 plus shipping. See below for options.
Please note – the book will ship the week of May 1.